April 26th, 2008
I would imagine that there are few days in life like today. When a baby is born, when a loved one gets married, when a loved one returns home after years of being missing. I don't know. I would think a day like today would be a "once in a lifetime event". I don't know how to describe today. It was a day that I have dreamed of few years and years…it was a day that my mother has talked about for years and years. I t was a day that none of us ever dreamed would actually happen. But it did.
Today was one of the most beautiful days of my life. I will have to take some time to think through all of the emotions that I felt – the mother felt – that my sisters felt. It was wonderful. Seeing mother stand there and realize that she once again could return home. Incredible. To watch her face when she realized what was happening.
Some moments in life are priceless – today was one of those moments.
For those who missed the very first post about this – on Christmas Day (4 months ago)
http://blog.usawx.com/2007/12/25/december-25-2007-a-christmas-story/
The first words from mother – once she figured out that I was going to build a house on the hill – was "now I won't be alone." I don't think I ever realized that she thought she would be alone. I will never forget the way she said those words.
The photos below are actually video still grabs. I was so nervous and excited today that I forgot to put the card in my camera! So all of the photos I took were blank! I think I made every photographers mistake today. I didn't check anything! Oh well!!!
Sometimes you wake in the morning to find out that dreams do come true.
Before you watch the video it would be best to read the narration below. It will take you through the "set up". Mother had no idea what was going on. We took her to the farm to dig up flowers. We hid a banner in the brush that said "welcome home mother". She found it – Dylan helped open it up. Then she slowly read what it said. At first she thought it was a joke or something. She got mad at Deena – then she asked me "you didn't buy this did you". 🙂

The video
VIDEO LINK IN CASE THE ABOVE DOESN'T WORK
http://www.youtube.com/watch?v=F9Q8n7dlgtQ
Thank you to everyone that helped make today possible. It has been a long four months! This all began on December 25th! Four months later…20 years later – here we are! There are so many other people that I wished were here to see all of this. I know that some of my friends have been asking me almost weekely – "have you heard anything new about the farm" and I would have to tell them no – nothing today. I know I told Kay Comer and Gail "maybe next week" at least once a week!

Driving up the driveway – we told mother we were going to dig up some flowers. Occasionally she does that
and replants them at her house in Mayfield. I think it makes her feel like a part of the farm is with her.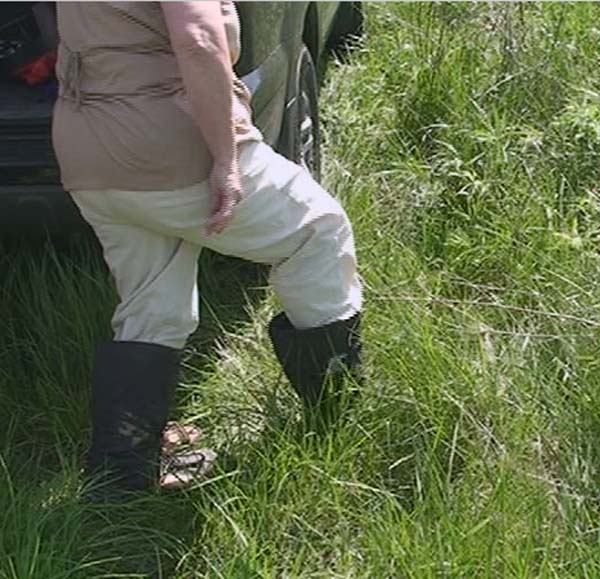 Mother put my boots on because she was afraid of snakes.
I SHOULD SAY THAT WE HID A BANNER IN THE GRASS THAT SAID "WELCOME HOME MOTHER" – THE PLAN WAS FOR HER TO FIND IT AND UNROLL THE BANNER – SHE WOULD SLOWLY READ WHAT WAS ON THE BANNER. 🙂

Deena points mother to some flowers – Dylan has the shovel and is
going to dig them up.

They start to dig up some flowers…mother still doesn't know anything
is going on.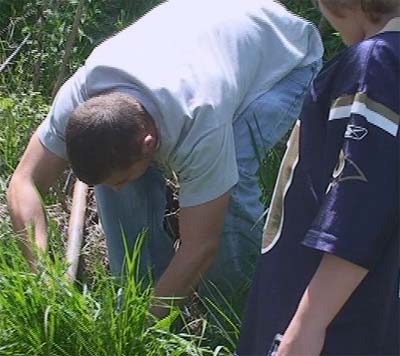 Mother notices the white banner – left corner of the photo by her leg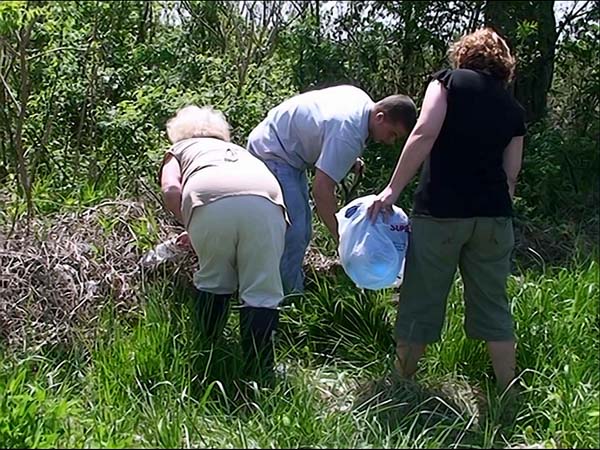 She reaches for the banner and starts to pull it out of the brush.
At first she thinks it is an old window shade.

She hands it to Dylan and he starts to unroll it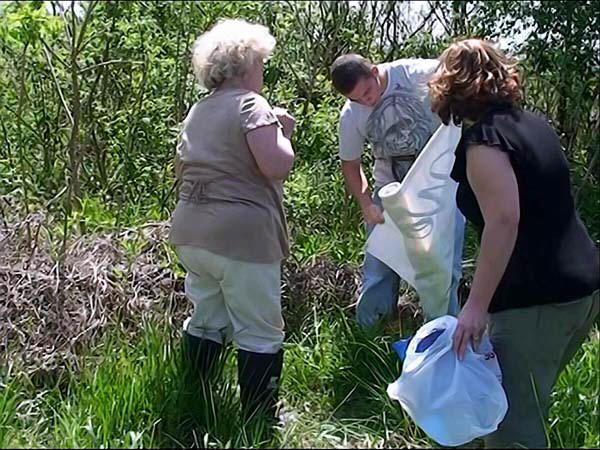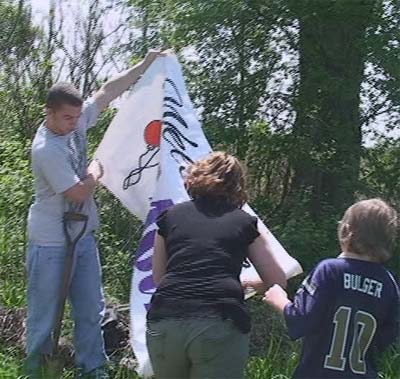 She slowly starts to read it 🙂 At first she says "wel" "welcome" then she
says "Welcome Home Mother" – she has a weird look on her face like
what in the world is that.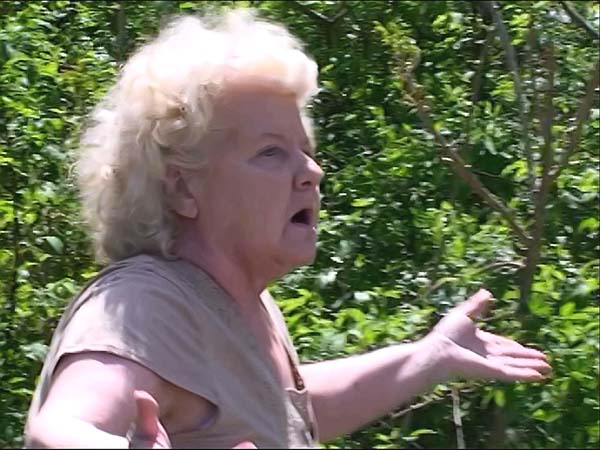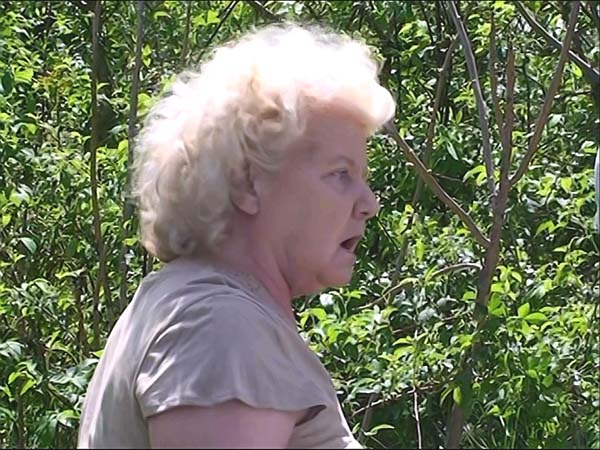 Then she realizes what it says…but still doesn't understand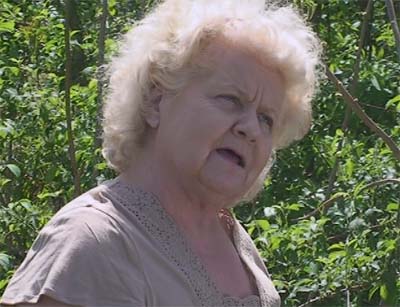 Then she gets mad because she thinks it is some kind of joke – she
tells Deena – "why did you do that"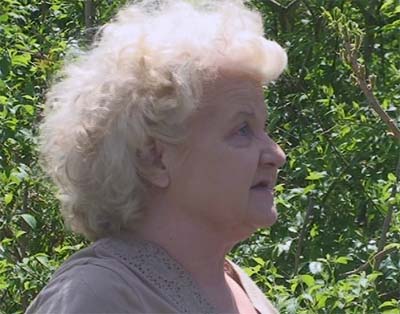 Then she looks at me and says "you didn't buy this did you" 🙂

Then I tell her "yes"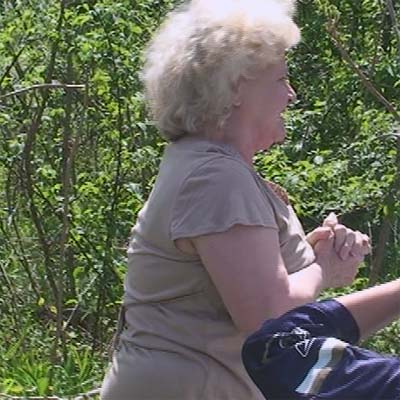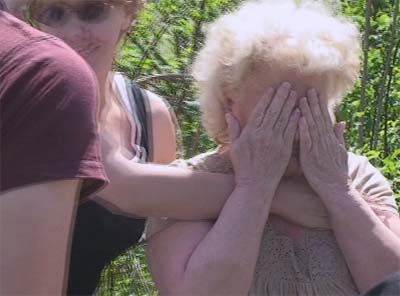 Then she asked me "what are we going to do build up here" and I said
"yes" 🙂 Then she cried some more. Then she said "you are not
going to build her also" and I said "yes I am" – then she realized that I
had bought both grandmothers old house lot and our old house lot.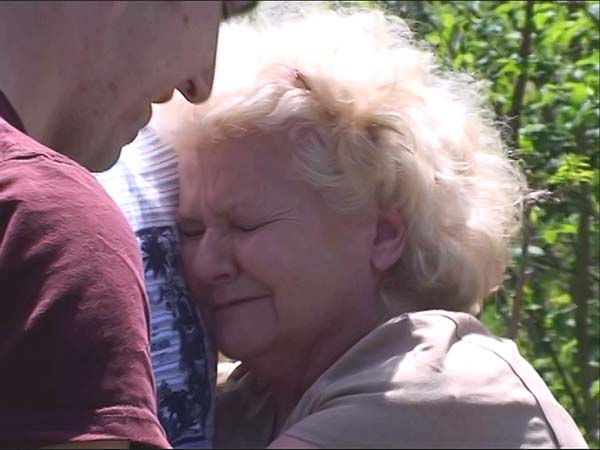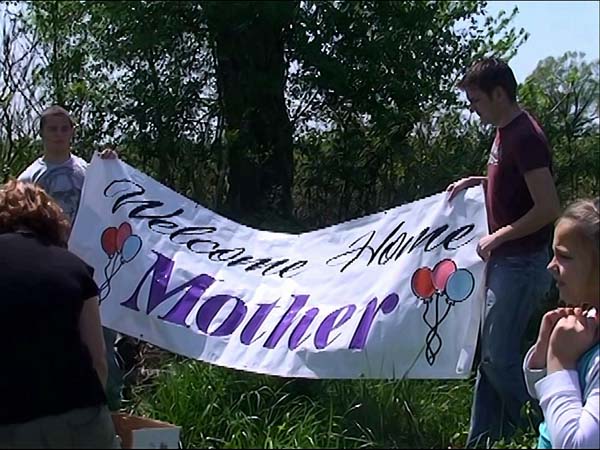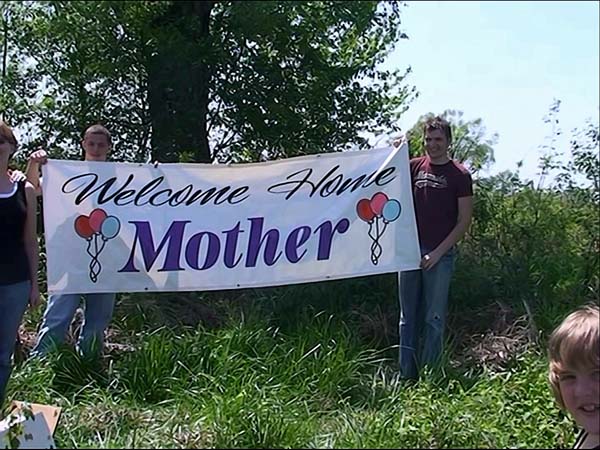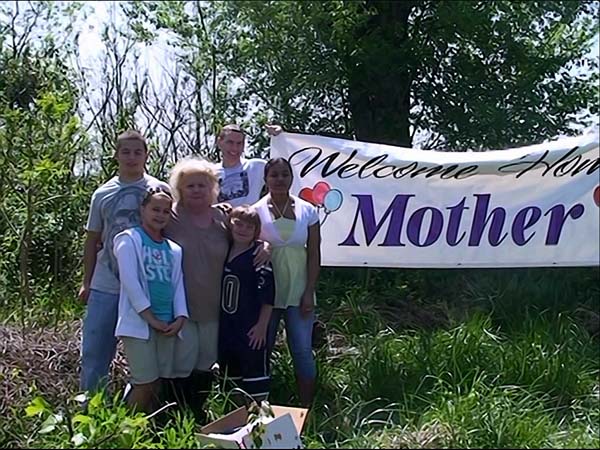 The family standing with mother
HOME!!!!

I think she looks happy there!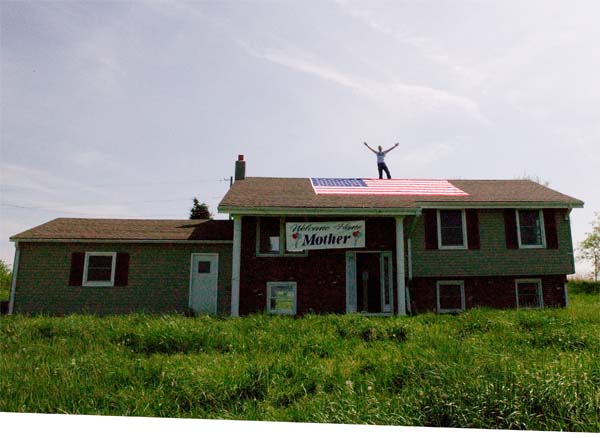 I had to stake my claim – it felt so good!!!!

I put a flag on top of the house – seemed like a good thing to do. Victory. 🙂 I am sure the Kortes and others
will see the banner and the flag and wonder what in the world is going on up at the old Dodson residents. 🙂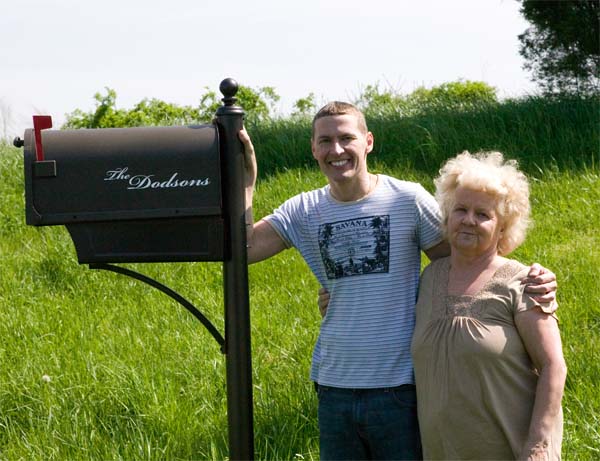 WE put together this mailbox…soon to be placed at the end of the long lane.
Somewhere over the rainbow
Way up high
There's a land that I heard of
Once in a lullaby
Somewhere over the rainbow
Skies are blue
And the dreams that you dare to dream
Really do come true
Some day I'll wish upon a star
And wake up where the clouds are far behind me
Where troubles melt like lemondrops
Away above the chimney tops
That's where you'll find me
Somewhere over the rainbow
Bluebirds fly
Birds fly over the rainbow
Why then, oh why can't I?
Some day I'll wish upon a star
And wake up where the clouds are far behind me
Where troubles melt like lemondrops
Away above the chimney tops
That's where you'll find me
– (Arlen-Harburg)
Topics:
Uncategorized
|
Comments Off

on April 26, 2008: A beautiful day…once in a lifetime